Dog lovers! Friends from distant lands, a moment of silence, for it has arrived, the most famous dog there is…yup, that's the dalmatian! But the question is, are you ready for the next wave of cuteness and loyalty that will flood you with our new dalmatian stuffed animal? It comes as a little puppy that measures only 30cm, all the way up to a full-size dog measuring a colossal 90cm. It is slim yet athletic, cute yet deadly serious when it comes to protecting the family… and most importantly, our stuffed dalmatian is coated with the iconic black and white spotted coat.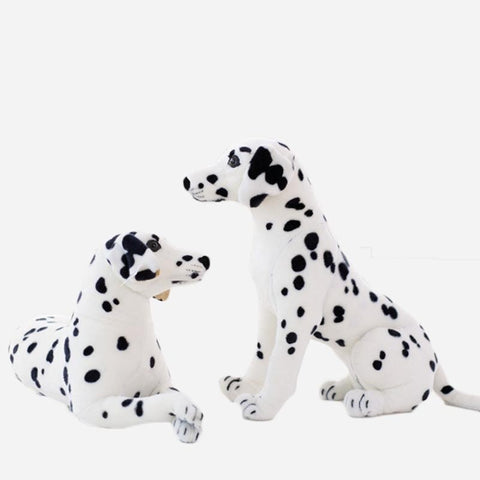 Our new dalmatian plush toy is delicately stuffed with soft and fluffy PP cotton, just about the right amount to keep it standing or sitting firmly, and yet huggable and squeezable. So yes, it either comes sitting firmly like a steady mountain, for your head to rest upon while reading a book or watching a movie, or comes standing, waiting for the next command from its new owner.
Dogs are the humans' best friends, no one can deny that, and the Dalmatians are the friendliest of all dogs. They are highly energetic and playful, and our dalmatian plush toy is all that and more. Your little dog lover will love this new addition to their toy box because we all deserve a best friend to grow up with. 
The dalmatian plush is not only for the kids! With its wide variety of sizes, you will for sure find your one. you can use the dalmatian plush toy as a decoration or a pillow, to use as a hugging buddy or to collect, or whatever you have in mind, just name it, the dalmatian stuffed animal will fulfill it. 
-FEATURES
Measurements

: 30cm 40cm 50cm 60cm 75cm 90cm 

Colors

: white with plush with black spots 

Materials

: PP cotton stuffing.