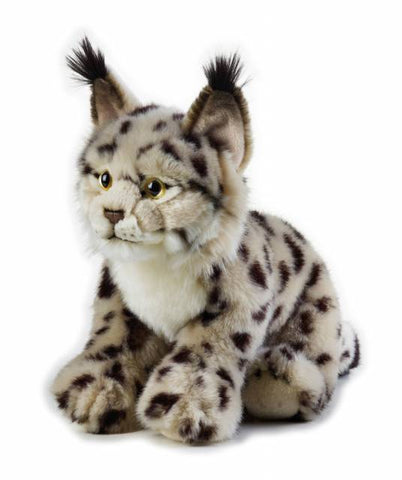 Hey, don't worry, our new bobcat stuffed animal doesn't bite, he just cuddles! Meet Bob, the newest member of our wildlife collection. 
Not only that this charming little hunter stuffed bobcat is made expertly with attention to the exquisite details at every inch of its cute little body, but also, it happens that bob stuffed animal bobcat measures 9.84 inch / 25cm, the perfect size for you to take it within your travels or for your little explorer to take to school or to the park. 
Mud?..dust..? worry not, bob the stuffed animal bobcat is best friends with the washing machine! But he is lonely being friends with the washing machine only, he can't wait to be friends with your little nat geo explorer too. He can't talk much, bobcats are silent hunters in the wilderness, but the thing is, bob the plush bobcat compensates his lack of noises with an unbelievable ability to hug and keep your little explorer warm at night and accompanied at day. 
If your idea of good outdoor time involves hiking and camping, then bob the stuffed animal is a buddy that you cannot afford to miss out on, he is a great hunter, his preys are loneliness and cold, and his mission is to hunt them down and demolish them. So what are you waiting for…?
–FEATURES
Measurements

: 25cm height / 28cm length.

                           

9.84 inch height   / 11 inch length.

Featuring

: featuring a nat geotag

Colors

: brown plush, warm white belly.

Materials

: PP cotton stuffing.