Say you went on a trip to some lake in South America and you spotted a capybara, you're so astonished by the magnificence of the animal that you would want to adopt it, but that's a no-no, what's the solution? Well, good news. We have the solution, and that is our new capybara plush.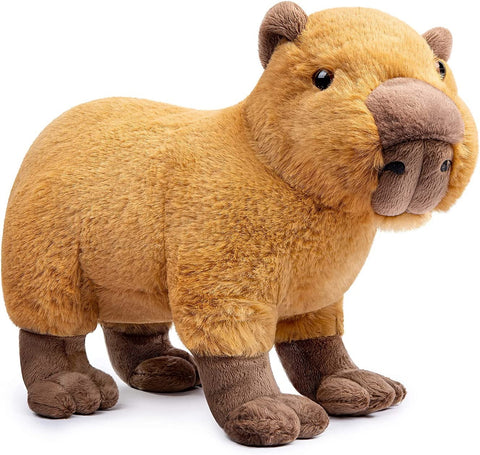 –FEATURES
      

    

Measurements: 40 CM  / 15.7″ 

      

    

Colors: authentic brown
          Materials:  soft plush. PP cotton filling
our new capybara stuffed animal would be a wonderful choice for you thanks to various reasons; like the fact that it looks very real, just like the ones from the South American lakes, and also the fact that it has excellent coloring and a really well-made body, also; it was designed for frequent use as much as it was designed for collecting, so do not worry about squeezing it. So now, you found your token from South America, a stuffed animal capybara; what fun will you be having with it? 
Measuring a good 15.7″ / 40cm in height and about double that in length, our capybara stuffed animals are constructed for durability so they can withstand countless hours of playtime, even if your kiddo is on the messy side of the spectrum, worry not! This capybara soft toy was made just for that, just grab it and go bananas. These capybara stuffed animal toys were made of all the good stuff on the market of good stuff, like soft plush with vibrant and realistic colors, PP cotton as stuffing, and delicately put together with the most careful of stitches, it really does not get any better than this. Well, to add one last thing to the list of reasons why the capybara soft toy is probably a great purchase…it is in fact surface washable and it did pass all the safety standards, how awesome is that!