They say you can trust your dog with your life but not with your meal; well, you can trust our schnauzer stuffed animal with both and more, measuring 9.84″ = 25cm, 13.77 " = 35cm, or 19.86″= 50 cm with its soft fur, fuzzy mustache, and cute black nose, our cartoon-like stuffed schnauzer will for sure win the heart of your kiddo with ease, and all it takes is one look, or one touch to feel the softness. Schnauzers are real family members, they do not forget their caregiver no matter how weird, or different life gets; our miniature schnauzer stuffed animal is made of the same family material.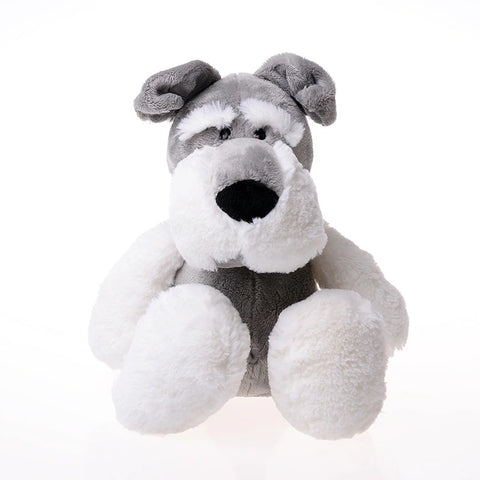 A household is better with a little guardian dog, and much better if this little fellow is a schnauzer that does not leave a mess behind, stitched with all the care there is and is always ready for a cuddle, our miniature schnauzer plush features all the qualities of a real schnauzer. Still, looking much better, and it does fit in your pocket much better than the real schnauzer; the cuteness factor and durability aren't all there is to our miniature schnauzer plush, he also is sitting in a perfect position to act as a pillow or a decoration or a headrest, he is happy to help whenever he can.
Its manageable size, warm facial features, and cartoon-like vibe make it an excellent gift for birthdays and a wonderful addition to the Christmas tree. To add to the pile of the awesomeness of Mr. schnauzer plush, he is washing machine friendly and is compatible with the dryer, so let your kiddo play with their buddy all they want; at the end of the day, all it takes is a click on the washing machine, some time, and here it is, good as new.
–FEATURES
Measurements: 25cm / 35cm / 50cm

                          9.84″ / 13.77 "/ 19.86"

Colors:  white grey black
features: washing machine friendly
Materials: PP cotton stuffing, soft plush