What's better than a regular pillow?…A ray plush pillow! Ladies and gents, step right up for the newest member of our sea family, Mr. stingray stuffed animal; with three varieties of measurements, 50cm, 60cm, and 80cm, our stingray plush is as attractive as ice cream in a sunny summer afternoon! Featuring a sea-blue back with polka dots all over it, and a white belly decorated with the cutest smile in the sea, it cannot get any better than this.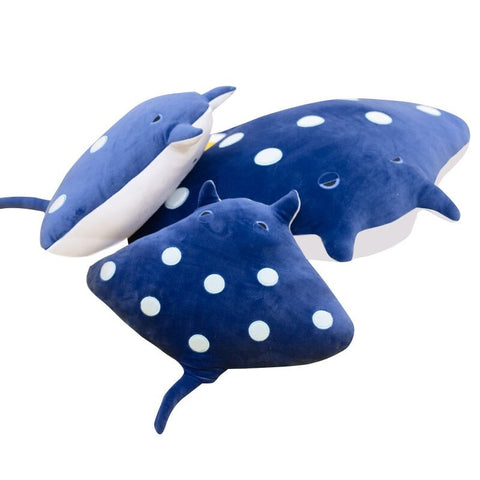 In the sea rays do sting, but in your room, they only cuddle, day and night, and without a stop, our ray plush would re-define your opinion about pillows forever.
The only difference between a ray and a shark is that one is rude and the other is playful, rays are the friendliest creatures in the sea, your little fisherman would absolutely love this new addition to their toy box, it's a pillow, a stingray plush, a friend, and much more.
They call them sea pancakes, and it makes perfect sense! but our manta ray stuffed animal is more of a pillow pancake, thanks to its fine craftsmanship, its precisely sewn details, and soft plush; this ray plushie would re-define the art of cuddling for you; the question is, can you handle its cuddliness…? Well, you'll have to find out for yourself.
–FEATURES
      • Measurements: 50cm /60cm/ 80cm
                                    19.68 inch/23.62 inch/ 31.49 inch
      •Colors: sea blue, white, black facial features
      •Materials: PP cotton stuffing.