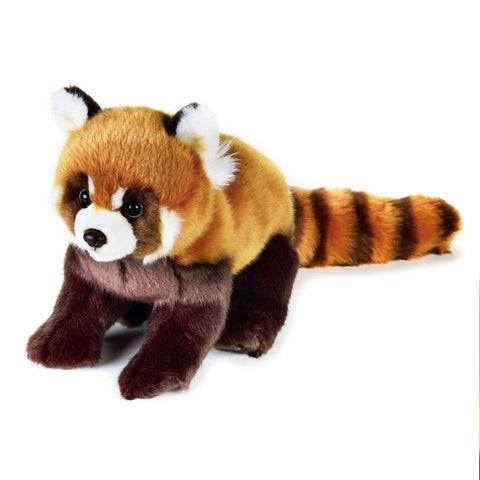 If you're looking for a huggable, squeezable, good-looking friend to the company during your nap time or your kid's playtime, then search no more, because you're in the presence of our new red panda stuffed animal, measuring around 28cm / 11", our new red panda plush is just about the perfect size for your arms to wrap around it and give it a warm hug in these times of cold and shiver. 
Thanks to the fine craftsmanship and the countless hours of testing that go into our stuffed animals, the stuffed animal red panda was designed for realism, the exuberant colors, and the careful stitches all around its cute body man it one of the finest plushies out there. And the looks aren't all there is to this stunning realistic red panda stuffed animal; thanks to its extra soft plush and high-quality PP cotton filling, you will have a hard time letting go whenever you cuddle with it.
They say money can't buy love; that is correct, money, however, it can buy a cute red panda stuffed animal, one that can provide all the warmth and love there is, and for the sake of being honest, we do think that our new red panda stuffed animal is the next big thing since stuffed animals are gifts that last a lifetime, this red panda plush is just sitting there waiting to be adopted, so what are you waiting for…? 
–FEATURES
   

Measurements

: 28cm / 11 inch

   

Colors

: orange, brown, white 

    Materials

:  soft plush. PP cotton filling