The rottweiler stuffed animal creates an exciting opportunity for children to engage in interactive play with other stuffed animal collections. The rottweiler plush has adorable alert expressions that look so genuine. You can choose from a range of sizes, the rottweiler cuddly toy is available for puppies to mature ones. The cuddly toy can be kept upside down in walkways for amazing Christmas home décor!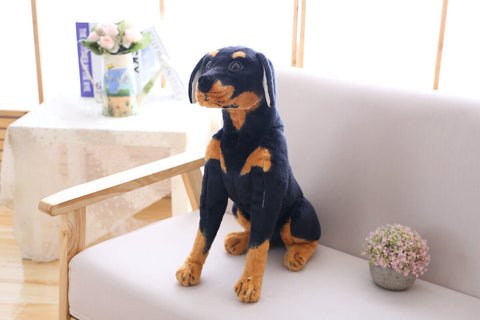 Best Friend: The rottweiler stuffed animal is indeed a true simulation of real dog species. Makes a great friendship with your toddlers.
Safe Material: The stuffed animal is crafted from non-toxic fabric material and is safer for all skin types.
Patterned Body: Its body is patterned like a real rottweiler dog and can be kept upside down to give a realistic appearance.
Made for Dog Lovers: What an ideal way to fool your loved ones with this plushie. Nobody can easily distinguish it from a real dog. Ideal birthday gift for those who cannot afford to keep a real dog.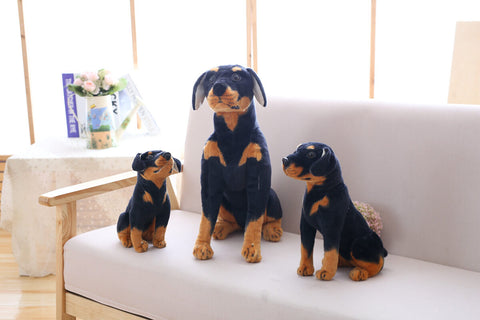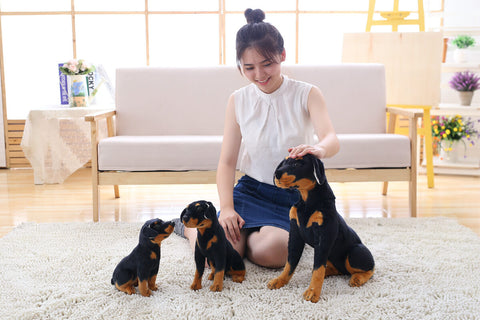 Material: Soft Plush with High-quality PP Cotton filling
Size: 23CM/31CM/35CM/46CM/54CM/66CM
Colors available: Black and brown combo
Packing: Only 1 piece per OPP bag