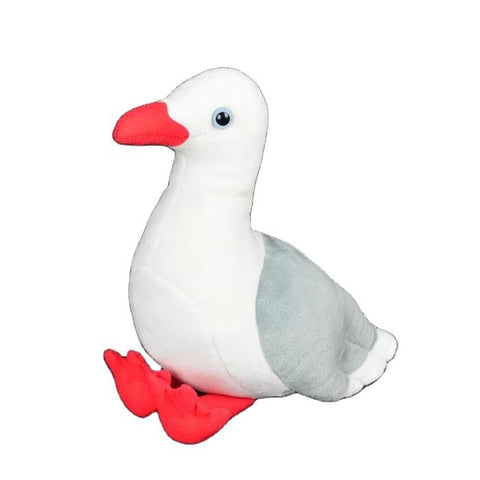 No bird soars too high if he soars with his own wings. Are you ready to fly through the sky of cuddles and naps with our new seagull plush? Measuring a compact 8.26 inch / 21 cm, every piece of fabric is pieced together with care, and the result is our new stuffed animal seagull that Features attention to detail and realism while maintaining the funny cartoon-like vibe and personality; we know that cartoons are close to any kiddo's heart. Therefore, our little feathery seagull stuffed animal features an affirming and assuring cartoonish look for your kiddo to feel happy as a clam while hanging out with his new feathery buddy. 
Made of high-quality PP cotton filling wrapped up with a safe PP plush coat. Also, our stuffed animal seagull is made of the most critical material any toy is made of, which is the best friend material; our little buddy here is an expert at making family out of strangers and memories out of ordinary moments. But let's focus on its actual body and the fact that this seagull toy is made of child-safety-friendly materials that were heavily tested to assure the best quality-price intersection. Add a little token of charm that you can carry everywhere.
The vibrant colors and the exuberant eyes add to its lifelike factor without lessening its cartoon vibe, and the innocent and funny characters all are contributors that make our new seagull toy a feathery best friend to your kiddo to tell their secrets, take to class, or just, chill and cuddle with.
–FEATURES
         

Measurements: 8.26 / 21cm

         

Colors:  white, grey, pink

         

Materials: PP cotton stuffing