Children have been close friends with plush toys for countless years. In fact, it would not be easy to find someone who did not have a favorite cuddly toy as a child. There are, however, various stories about the origins of stuffed animals, including ghoulish, commercial, and plain parents producing them for their children.
Today we will make a grand tour of the history of the plush toy. We will look at the first modern teddy bear and how it came to be. Also, we will take a quick history trip to see where it all started and when stuffed animals were invented, and in between, we will study everything else there is to study about our beloved cuddly plushies. 
If you are a teddy lover, you're in for a treat!
Modern Plushies 
Children's soft toys have been around for a long time, maybe beginning with ragdolls constructed from discarded or worn-out fabric remnants. But a crippled woman by the name of Margarete Steiff is to be credited with making stuffed animals popular.
Margarete had polio as a newborn, which paralyzed her legs and caused severe muscle weakness in her right arm. She continued to attend sewing school as an adult, but she became dissatisfied with the difficulties her impairment created. She still finished her training as a seamstress at age 17 and worked as a tailor alongside her sisters.
The Legacy of Margarete Steiff & The First Modern Stuffed Animal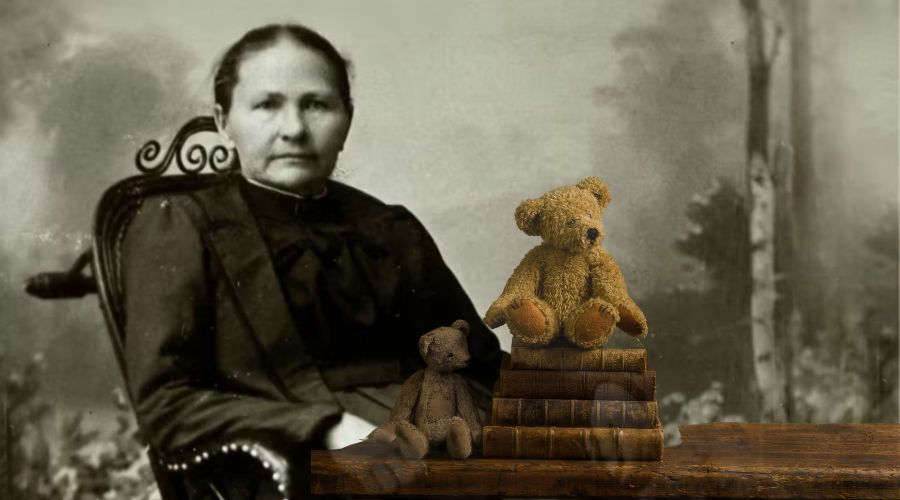 She began saving money and using those funds to buy the first sewing machine in her German village of Gien. Her arm's weakness was made up for by the sewing machine, which gave her the freedom to make her trade.
She learned about felt, a material imported to Europe from east Asia, and believed the warm, supple material would be ideal for toys for kids. She began making stuffed animals, such as stuffed elephants, mice, and bunnies, as gifts for intimate friends and family members, but in the 1890s she began selling them to the general public in her own store. To accommodate the substantial demand for these toys by 1889, the business relocated to larger premises. The Steiff Corporation originally began making what would later be known as teddy bears in 1902. When Richard Steiff, Margarete's nephew, brought the bears to a Leipzig spring fair, an American customer placed an order for 3,000 bears, and they quickly gained popularity in the US. Teddy bears were created in 1906 and given Theodore teddy Roosevelt's name.
The stuffed animals made by Margarete Steiff were renowned for their commitment to excellent quality, and she was frequently quoted as saying, "The best is just good enough for our children." She made certain that her children's toys were the best they could be by doing everything from designing the prototypes herself to avoid manufacturing-related technical issues to locating the best materials.
Toys made by the Steiff Corporation are being produced today and are known for their superior quality.
The stuffed animal was cozier and cuter than the vintage ragdolls, as well as more durable and cuddly than the porcelain dolls that were then a common choice of children's toys.
The first stuffed animal to be granted a patent was a plush rabbit modeled after Peter Rabbit from the Beatrix Potter books, produced shortly after the Steiff Bear.
During the Great Depression, stuffed animals like sock monkeys, typically constructed out of socks, became available to kids who might not have otherwise had access to them.
This history is so important because it has such a strong influence on the way we live today. Women who have endured terrible misfortune founded the toy company Bunnies by the Bay. Our plush toys started as hand-made, individually designed gifts to spread joy. We are committed to producing the best soft toys we can for children. Lastly, our founders are female business owners who have overcome obstacles to succeed in a male-dominated industry.
Not to mention that bunnies and rabbits were some of the first stuffed animals produced for sale.
In a sense, that past is where we locate our origins. Bunnies by the Bay relies on the historical basis laid by a crippled woman in 19th-century Germany and the company she created, developed, and still produces stuffed animals today to deliver some of the best toys to your kids.
How Teddies Became Famous
Stuffed animals were initially made small and were frequently toys for the wealthy or the less fortunate, who could manufacture them themselves out of rags and leftover fabric. Teddy Bears, along with a range of other plush toys produced by firms like Gund and Mattel, were a childhood staple during the early 1900s thanks to mass manufacture, which made it possible for them to enter almost every home. But after World War II, during the post-war baby boom, the market for toys soared, giving rise to new brands such as the Wallace Berry Company (later to become Applause), which produced toys that were officially licensed by Disney, Warner Bros., and Jim Henson, the Mary Meyer Corporation, Commonwealth of PA, Jerry Elsner, Mattel, and many others.
As businesses expanded their selection of plush toys to include fictional characters from films and cartoons, stuffed toys as we know them now first appeared on the market in the 1980s. Winnie the Poo and Sesame Street were made popular by companies like Mattel, while My Pet Monster, Strawberry Shortcake, and the Care Bears were debuted by American Greetings. Brands like TY dominated the market in the 1990s, selling bears and other figures in every hue and design, transforming stuffed toys into collectibles. The urge for personalized toys was marketed by companies like Build-a-Bear, and much of the world has never looked back since.
Stuffed animals are now created worldwide, a zoo's mainstay, a necessity for kids, and an enjoyable and beloved experience for individuals of all ages. They are also among the most often purchased toys and are well-liked by both children and adults. It's difficult not to love plush animals, even if you've never owned one.
Licensed brands like Sausage Party, Finding Dory, Angry Birds Movie, and many more may be found among the plush toys offered by wholesale toy maker and distributor License 2 Play.
From Rag Dolls To Wooden Toys

Manufacturing toys made from clay, wood, ivory, and other materials marked the beginning of the history of stuffed animals and dolls. The earliest wooden dolls were discovered in Egypt around the second millennium BC.
The ragdoll was historically the more direct ancestor of the plush animal. The first to fifth centuries is when the earliest rag doll was made. The Egypt Exploration Fund discovered this rag doll in Oxyrhynchus, Egypt. It is made of linen, filled with rags and papyrus, and adorned with colored wool. Currently, the doll is kept at the British Museum.
Rag Dolls gained acceptance across all social levels over time. The invention of fabric color printing around 1830 made producing soft, vibrant dolls in large quantities possible. Rag Dolls were utilized as educational tools and moving objects since they allowed young children to practice their craftsmanship while also helping them learn how to be loving. Children learned how to sew by fixing the dolls themselves, making easy alterations, and making clothes for them.
Teddy Bears' Historical Context

Nowadays, teddy bears are widely used. Each year, more than 50 million teddies are sold. But from where did it originate? In 1902, both businesses submitted patent applications for the teddy bear's design. While the other created a toy that could communicate, the first designer began stuffing a plush animal.
Both businesses submitted patent applications for their designs in 1902. Both designers wanted to create a distinctive teddy bear, but they had different views about how to do it; one tried to make it soft and cuddly, while the other desired something tough and long-lasting.
How Was The Name of The Teddy Bear Derived?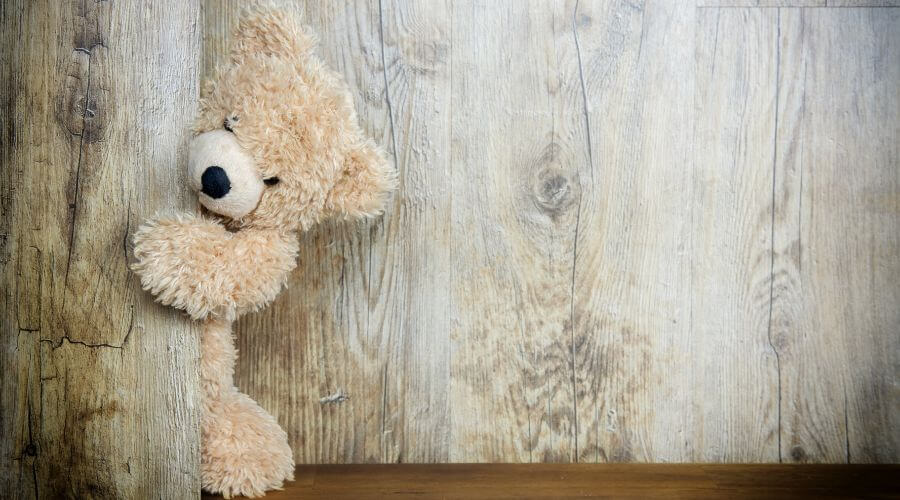 Teddy bears get their name from the way they look. These are adorable, plush, and squishy. But how did they play such a significant role in our early memories?
Teddy bears like this one were constructed initially of stuffed cloth. Kids who play with them frequently become filthy or wet and require cleaning. So someone created them using wool in the nineteenth century. "Woolen teddies" were the name given to these.
Many of them were sent home by soldiers serving in World War I in 1914. As a result, the "felt teddy bear," which could be produced for much less money, was invented.
But, it wasn't until the 1920s that a plush toy was called a "teddy." Manufacturers began giving them names in the 1930s.
But why are they still known as teddies today? There isn't a clear answer, so. Some claim it's due to their appearance, while others claim it's because they're cute and cuddly. Some claim that it's because they were gifts given to infants.
Whatever the reason, both children and adults still like teddy bears.
Influence on Culture, Marketing, and Collectors
One of the earliest types of playthings is the stuffed animal. These are frequently given to adults and children for important occasions like graduations, sicknesses, funerals, congrats, etc., as gifts, as well as for display or collection. In American Culture, stuffed animals are highly valued. Stuffed toy animals come in various varieties, such as dolls, plush toys, teddy bears, pajamas, ragdolls, and action figures.
Stuffed toys were estimated to have a $7.9 billion global market in 2018; this market is expected to rise over the following years. This number does not include plush toys and plushie figurines, which are becoming increasingly popular with young girls and are expanding quickly. Both online and offline retailers are selling these goods. While brick-and-mortar companies provide promotions and coupons, online stores offer free shipping and savings.
Some of the biggest producers of stuffed toys are based in the US. Hasbro Inc., Mattel, Tyco Toys, Fisher Price, VTech, and LEGO are a few examples of businesses. Some businesses produce licensed stuffed animals, such as those inspired by popular television and film franchises. Others create original designs. Although there are adult versions of these toys, many are also targeted at youngsters.
Ancient History Of Stuffed Animals
Ancient civilizations gave rise to plush toys. Toys were fashioned in ancient Egypt out of linen and stuffed with papyrus or other materials. These presents were typically in the form of dolls or animals and were given to kids.
Stuffed animals were also well-liked in China. People created stuffed animals from silk and other textiles during the Han Period (202 BCE–220 CE). These toys, frequently shaped like animals or fantastical creatures, were thought to bring good fortune.
Stuffed animals first gained popularity in Europe in the 19th century. Teddy bears were the first plush animals to be mass-produced and were developed in 1902 by German toymaker Margarete Steiff. President Theodore Roosevelt, who was renowned for his love of hunting, inspired the naming of the teddy bear. Steiff was inspired to make a stuffed bear after seeing a cartoon in the Washington Post depicting the President saving the life of a bear cub.
Plush toys were initially created using a range of materials. Straw, rags, or other cloth remnants created the earliest stuffed creatures. Manufacturers started employing fresh materials, such as cotton and wool, to make stuffed toys in the 19th century. These toys might be relatively pricey and were frequently handmade.
Plush toy sales decreased during World War I. Instead of producing plush animals, many toy manufacturers started making military toys. Yet, once the war was over, plush toy demand rose again. Stuffed animals gained popularity among both children and adults during the 1920s and 1930s thanks to the creation of numerous innovative designs.
The manufacture of plush toys grew more automated in the 1950s and 1960s. Stuffed animals were first created using synthetic fabrics, such as polyester, by toy manufacturers. This increased plush toy manufacture's speed and efficiency while lowering their price.
BONUS: 8 Most Valuable Plushies in The World
8. Harlequin Teddy Bear

Price realized: 

$74,500 (approx.)

Production year: 

1925

Sale year: 

2010

Manufacturer: 

Steiff
About 1925, Steiff produced the half-red, half-blue teddy bear, Harlequin. It has black stitching, and yellow felt pads. While one eye is brown and dark, the other is blue.
A woman employee who spent over 40 years working for Steiff initially owned the toy. For the first five years of her career, she collaborated with Margarete Steiff, the company's creator.
No other teddy bears with the same design have been discovered. It is assumed that it was an original experimental item, possibly created by the original owner.
Did You Realize?
This teddy bear was purchased by hedge fund manager Paul Greenwood in 1999 at the Steiff Festival Auction. Greenwood possessed a big assortment of expensive teddy bears. All of his soft toys were later auctioned at an auction held at Christie's showroom after he was found guilty of fraud in 2010.
7. Diamond Eye Teddy Bear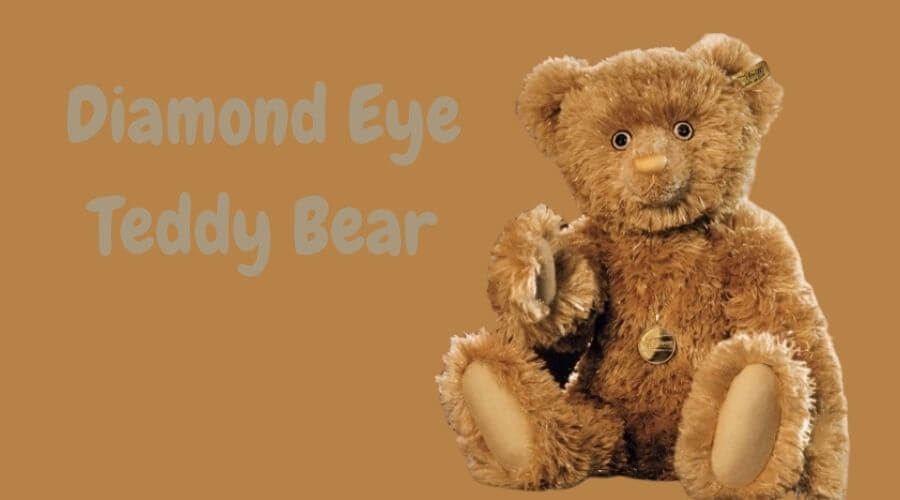 Price realized: 

$84,000

Production year: 

2008

Sale year: 

2008

Manufacturer: 

Steiff
The cost of this teddy bear is not determined by its historical worth, unlike Harlequin. Because of the materials used, it was pricey.
To celebrate the company's 125th anniversary, Steiff created this extremely pricey limited edition Diamond Eye bear. The toy's mouth was crafted from real 24-carat gold, and gold thread was used to make its fur.
It also possessed diamond-rimmed irises and emerald pupils for eyes. In addition to the teddy bear, a gift set included a Mont Blanc pet and an ink pot with liquid gold.
Did You Realize?
The upscale department shop Selfridges in London sold the diamond Eye teddy bear. This teddy bear served as the centerpiece of Selfridge's toy area.
6. Steiff Rod Teddy Bear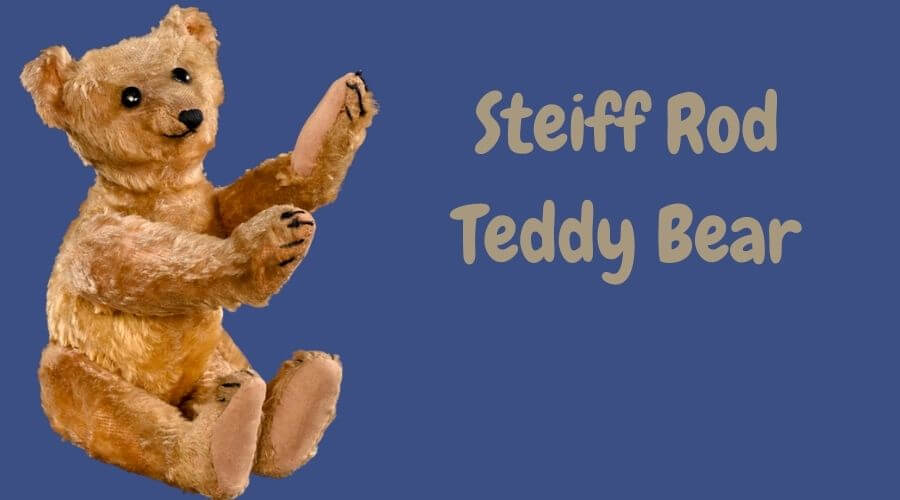 Price realized: 

$ 101,880

Production year: 

1904

Sale year: 

2002

Manufacturer: 

Steiff Firm
Cord joints were a component of Steiff's very first teddy bears. Rod Joints for limbs were first introduced by Steiff in 1904, when the company was in the second phase of developing teddy bears. That considerably strengthened the toys. Given that they are extremely rare and over a century old, these teddy bears fetch hefty prices at auctions.
At the 2002 Steiff festival in Giengen, Germany, a Steiff Rod teddy bear was purchased for 82,000 euros.
Did You Realize?
The oldest teddy bear to ever emerge in an auction was this Steiff Rod bear. Subsequently, a different specimen from this lot was sold for 25,000 pounds at a Christie's auction.
5. Supreme x Louis Vuitton Teddy Bear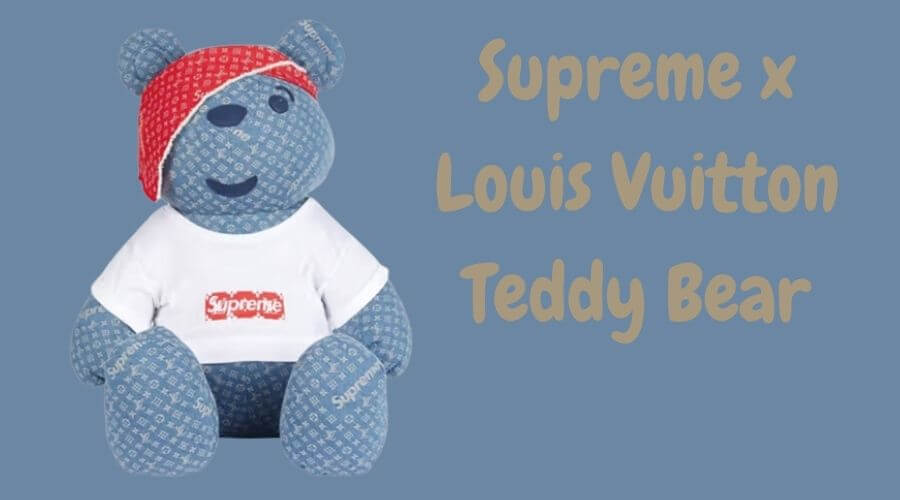 Price realized: 

$106,016.08

Production year: 

2017

Sale year: 

2017

Manufacturer: 

Louis Vuitton and Supreme
This one-of-a-kind, enormous teddy bear was created in 2017 for the BBC's Children in Need initiative. Pudsey Bear, the official mascot of the humanitarian event, was recreated by Loius Vuitton and Supreme.
The 71 cm-long doll was made of high-quality denim. Moreover, it has a crimson bandana over one eye. The entire $106, 016.08 sale price of the teddy bear was donated to the BBC Children in Need fund.
Did you Realize?
The BBC launched its humanitarian initiative Children in Need in 1980.
4. Steiff Titanic Mourning Bear
Price realized: 

$131,937

Production year: 

1912

Sale year: 

2000

Manufacturer: 

Steiff
Following the Titanic disaster in 1912, Steiff created a unique, limited-edition black mohair teddy bear to be offered as sympathy presents. A total of 665 black bears in five different sizes were produced.
One of these teddy bears was sold by Cristie's auction house in London for 91,750 pounds. The Puppenhaus doll museum in Basel, Switzerland, bought it. The museum now has this 20-inch-long doll in its collection. It features a large nose, a humpback, black fur, and cream-colored paws.
The teddy bear's first owner never liked it and kept it locked away in a cabinet her entire life. As a result, it was in perfect condition when it was offered for auction.
Did You Realize?
The Titanic teddy bear didn't sell well when it was introduced to the London market because people disliked black fur.
3. Teddy Girl Bear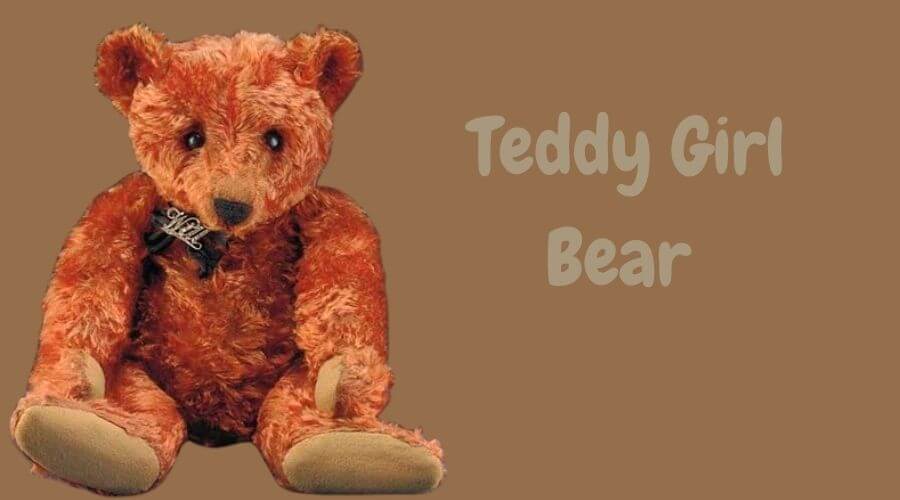 Price realized: 

$143,000

Production year: 

1904

Sale year: 

1994

Manufacturer: 

Steiff
Colonel Robert "Bob" Henderson spent his entire life with this cinnamon-colored, center-seam teddy bear with thick, curling mohair and black boot buttons for eyes. He received the bear as a present on the day of his birth, and he kept it until his passing in 1990.
Teddy Boy was the name given by Handerson. Even on the battlefields, when he was in the service, he would bring the bear along. After his daughter Cynthia was born, he gave her the toy. The teddy bear acquired the name Teddy Girl since Cynthia once dressed it in a frilly outfit for a woman.
The bear appeared in a Christie's auction in 1994 and sold for a staggering £111,000 there. Yoshihiro Sekiguchi, the proprietor of the Izu Teddy Bear Museum in Japan, purchased it.
Did You Realize?
Teddy bears and how people feel about them have always been of great interest to Colonel Handerson. The bear has occupied a special place in folklore, myth, fairy tale, and mythology, according to Hander. Nowadays, it is clutched for stability and gripped as physical consolation in the shape of a teddy bear.
2. Happy Anniversary Teddy Bear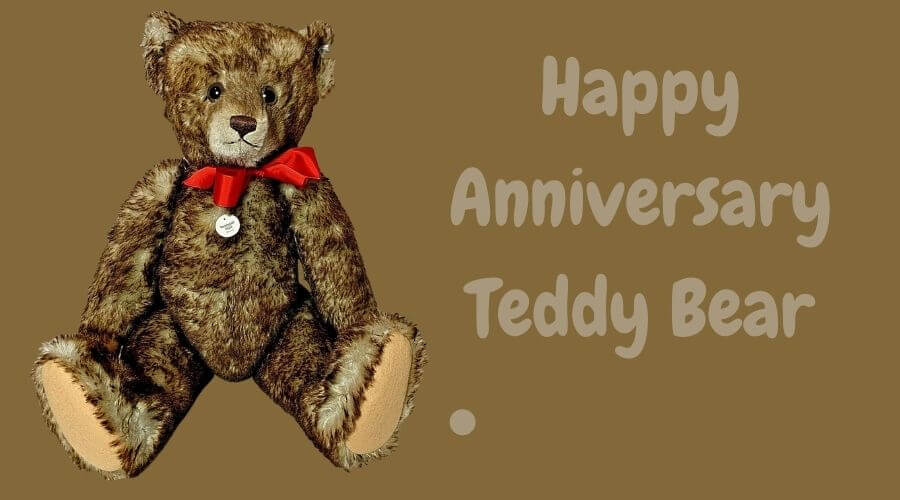 Price realized: 

$ 152,334

Production year: 

1926

Sale year: 

2002

Manufacturer: 

Steiff
The second most expensive teddy bear ever sold is the Happy Anniversary Teddy Bear, better known as "Happy." Steiff created this teddy bear in 1926.
This teddy bear was purchased by Rosemary and Paul Vlopp from London's Sotheby's Auction House in 1989. The pair had been married for 42 years. They intended to spend between $5,000 and $10,000 on an anniversary present. They ultimately spent $86,000 on Happy, though. Happy continued to be the most expensive teddy bear for five years.
Vlopps relocated to Carson City, Nevada, from Buena Park, California, in 1996. They had about 5000 teddies in their collection at the time, and they got rid of about 1000 of them.
Happy was purchased for £ 101,556 in 2002 at the Steiff Festival in Giengen, Germany.
Did You Realize?
Happy and Vlopps used to travel to numerous teddy bear gatherings around the globe. The lecture fees would be waived, and the money would be given to charities. Happy reportedly raised at least $100,000 for children's charities, according to Rosemary Vlopp.
1. Steiff Louis Vuitton Teddy Bear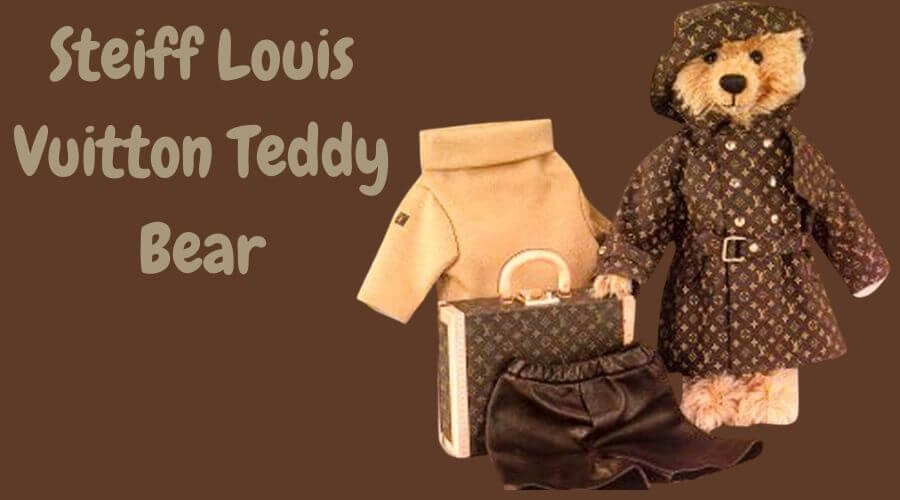 Price realized: 

$2,100,000

Production year: 

2002

Sale year: 

2002

Manufacturer: 

Steiff
Steiff and Louis Vuitton collaborated to create the most costly teddy bear ever in 2002. The ideal toy if you have an extra 170K dollars.
It is comprised of gold fiber and mohair. The teddy bear is dressed in exquisite Louis Vuitton clothing with 24-carat gold accents. In addition, sapphire and diamonds are used to create its eyes.
This teddy bear made it into the Guinness Book of World Records after being sold at an auction at Christie's, Monaco, for an astounding $2,100,000. Jesse Kim, the Korean proprietor of the Teddy Bear Museum on Jeju Island, purchased it.
Did You Realize?
Kim Kardashian purchased a Louis Vuitton Teddy Bear for her third child in 2018 for $170,000.