Discover the truth about teddy bears and their place in the world beyond childhood. These lovable and endearing plush companions hold a special place in our hearts and evoke cherished memories, but their comfort and warmth are not limited to just children. In fact, psychologists agree that owning stuffed animals like bears and cats is not a sign of mental illness, but rather a normal and acceptable practice for both kids and adults.
In this article, we delve into the psychology behind owning a stuffed animal as an adult, exploring the benefits and overall experience. We'll also showcase the best-stuffed animals for adults, specifically tailored for cuddling and providing comfort. From the most delightful and huggable options to the funniest and most entertaining choices, we've curated a selection that will satisfy every adult's plushie desires.
Embrace the joy of owning the best-stuffed animals for cuddling adults and indulge in the whimsical world of funny stuffed animals designed to bring laughter and delight. Join us as we unravel the fascinating psychology and unveil a range of top-notch plush companions that will captivate your heart.
Is it Weird For Adult Men To Sleep With Stuffed Animals?

Well, to answer the question, Is it normal for a 21-year-old to have stuffed animals? We have the following…Although academics haven't thoroughly investigated how stuffed animals affect sleep quality, our experts concur that it's neither strange nor unwise for adults to sleep with them, adds Wachholtz. She adds that she has observed adult patients bringing plush animals for hospital overnight stays. "If you feel better sleeping with a plushie, that's because it is helping you," she says. Thanks to the toys, the patients are more at ease while away from home.
One potential problem, according to Martin, is for adults with autism and stuffed animals, it might be tougher to fall asleep without. And for a regular person, it might be tougher to fall asleep if you're used to sleeping with a stuffed animal and you're removed from it while on vacation. According to her, people typically sleep better when their bedtime ritual is regular.
Sleeping with a plush animal might not help if you have sleep problems. According to Martin, simple solutions like a teddy bear might not be effective for people with persistent insomnia. Therefore they should consult a doctor who can recommend a sleep therapist.
But there's no need to stop if you already sleep with one. She declares that I'm a huge believer in telling folks to do what makes them feel comfortable at night. "I wouldn't worry if somebody is sleeping with a stuffed animal right now, and they enjoy it and get good sleep."
Here are Some of the best-stuffed animals that you can get today
We've selected a collection of plush animals ideal for grownups to ensure that even grownups may discover the ideal animal friend!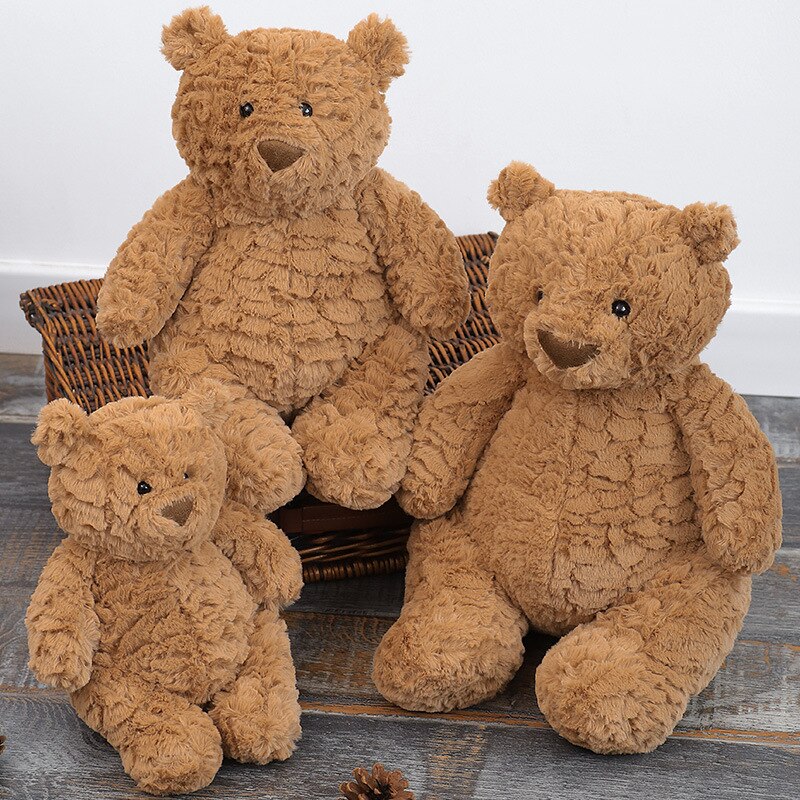 Introducing the Cute Bear Plush Toy from AlwaysPlushie.com, a delightful plushie designed exclusively for adults seeking comfort and relaxation. Indulge in its charming and endearing nature, as it understands your guilty pleasures, such as enjoying an entire pizza all by yourself.
This lovable companion offers a perfect blend of nostalgia and coziness, making it a must-have for those in need of solace. Its luxuriously soft and plush fur provides a cloud-like sensation when snuggled up, creating a truly indulgent experience. Available in three sizes – 40 cm, 35 cm, and 28 cm – you can choose the perfect snuggling companion to suit your preference.
Rest assured, this adorable plush teddy bear won't monopolize your blankets or disrupt your sleep with excessive snoring. Embrace the classic charm of a traditional teddy bear, complete with an adorable scarf that adds a touch of sweetness.
Don't wait any longer to bring this unique and incredibly soft plushie home. Let it become your new best friend, providing you with warmth, comfort, and a much-needed respite from the demands of adulthood. Treat yourself to a little nostalgic joy and embrace the childlike wonder that this cuddly companion brings.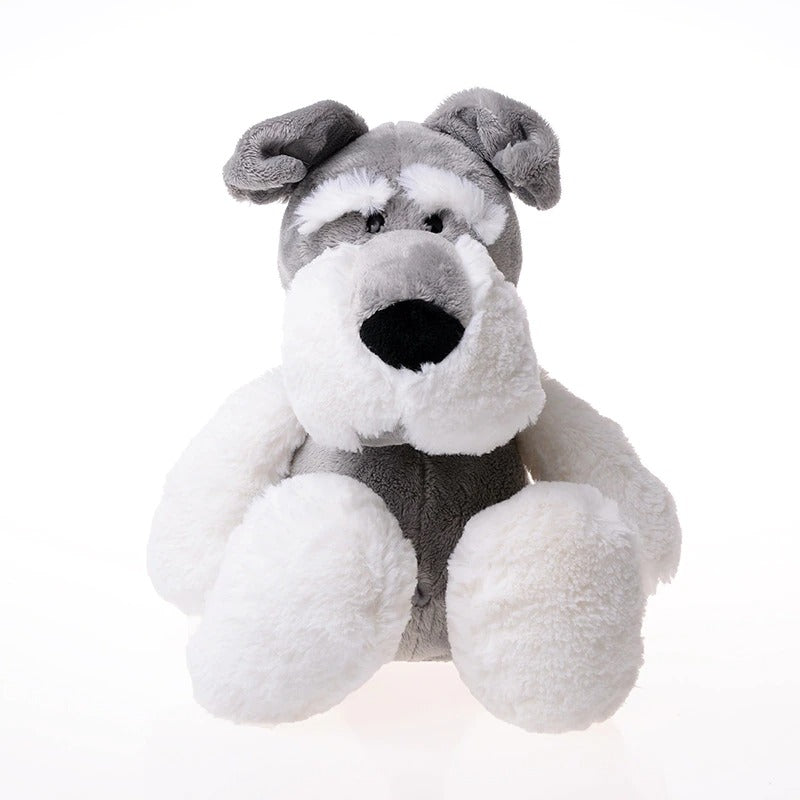 another trustworthy companion that brings joy to both kids and adults alike by Always Plushie.com,  Measuring either 35cm or 45cm, this cartoon-like plushie features soft fur, a fuzzy mustache, and a cute black nose that will instantly win the heart of your little one.
Just like real Schnauzers, our stuffed animal is a loyal family member. Crafted with care using high-quality materials, it embodies the same qualities that make Schnauzers so beloved. With one look or touch, you'll feel the softness and warmth that this miniature Schnauzer plushie exudes.
This little guardian dog is the perfect addition to any household. Unlike its real counterpart, it won't leave a mess behind. It's stitched with meticulous attention to detail, always ready for a cuddle. Not only does our Schnauzer plush look adorable, but it also serves multiple purposes. Its perfect sitting position makes it ideal as a pillow, decoration, or even a headrest. It's eager to help in any way it can.
In addition to its cuteness and durability, our miniature Schnauzer plushie is conveniently sized to fit in your pocket. It makes an excellent gift for birthdays and a delightful addition to the Christmas tree. Plus, the plushie is washing machine friendly and compatible with the dryer. So, let your child play with their furry buddy as much as they want. At the end of the day, a simple click on the washing machine and some time will have it looking good as new.
Experience the joy of having a Schnauzer companion without the responsibilities. Bring home our Schnauzer Stuffed Animal from AlwaysPlushie.com and watch as it becomes your little one's loyal and lovable friend.
If you're yearning for a comforting embrace on a rainy day, our exquisite assortment of giraffe plush toys is here to fulfill your desires. Indulge in the warmth of long-lasting cuddles reminiscent of an enchanting safari night. Whether you prefer life-sized giraffes for cozy companionship or palm-sized cuties to add a whimsical touch to your decor, we offer an array of options tailored to your preferences. Discover the perfect giraffe plushie to grace your collection at AlwaysPlushie.com.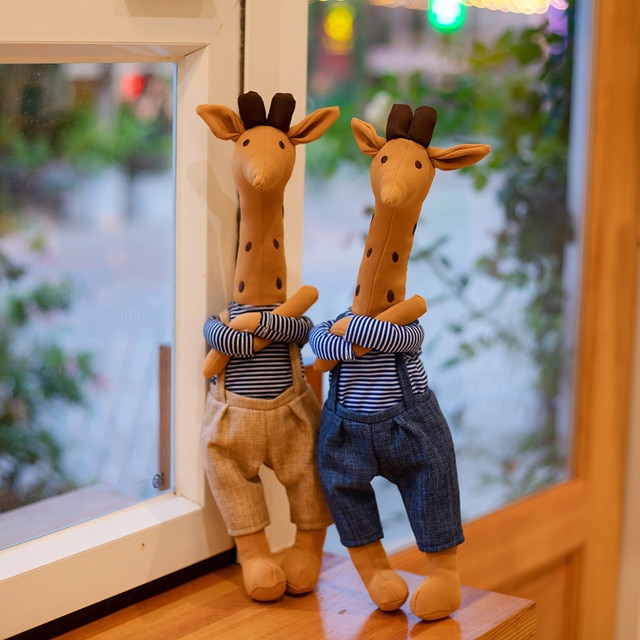 Discover the epitome of elegance with our newly arrived Kawaii Giraffe Plush Doll – a true connoisseur of style! This refined companion is ready to elevate your fashion statement to new heights. Standing at an impressive 45cm, he emanates an air of sophistication, confidently crossing his arms as if he's attentively analyzing and appraising your every choice. Immerse yourself in the world of sophistication and refinement by welcoming this adult plushie into your collection, available exclusively at AlwaysPlushie.com.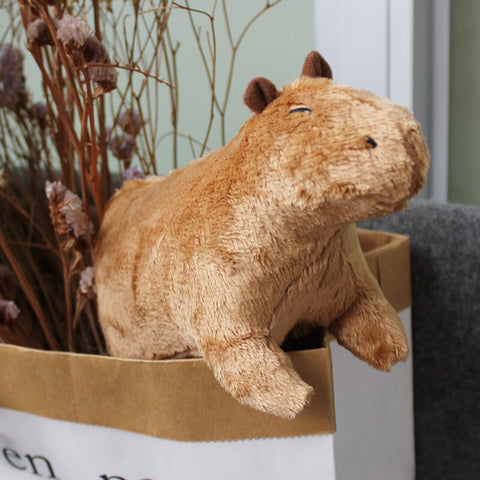 Experience the irresistible charm of our exquisite brown Capybara Plush Toy, capturing the adorable and comedic essence of its real-life counterpart. Meticulous attention to detail brings this toy to life, boasting a remarkably realistic design. Crafted from premium, washable synthetic fleece, the plushie's exterior offers a sumptuously soft texture, ensuring effortless maintenance for years of enjoyment.
Its vivid expression and lifelike features make it an instant object of affection. The Capybara Stuffed Rodent Toy is a perfect gift for birthdays or Christmas, appealing to both the young and the young at heart. Delight your friends and loved ones with this one-of-a-kind, endearing Capybara plushie, available exclusively at AlwaysPlushie.com.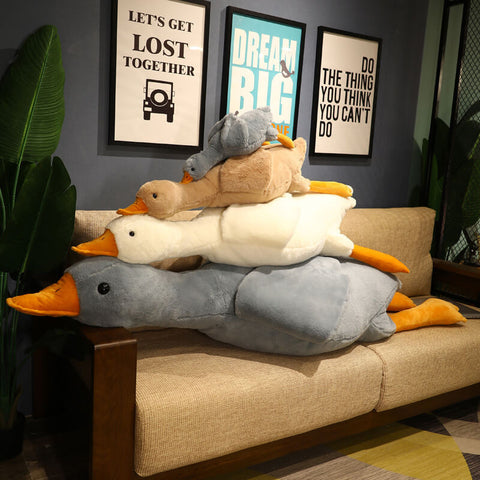 Introducing our captivating Goose Soft Toy, an extraordinary plush doll that doubles as an educational tool for bird enthusiasts. Designed to enchant and educate, this plush goose is expertly crafted with premium cotton filling, guaranteeing a luxuriously soft and comforting touch. Its generous size allows for effortless lounging and relaxation.
Safety is paramount, and our well-constructed plushie ensures maximum security for adults seeking comfort and companionship. This versatile goose toy also serves as a delightful Christmas gift, as adults often cherish the nostalgia and affection associated with stuffed animals.
If you're seeking to enhance social interaction skills, our Goose Soft Toy is an ideal choice, fostering developmental growth in individuals of all ages. Discover the perfect blend of sophistication and playfulness with this adult plushie, available exclusively at AlwaysPlushie.com.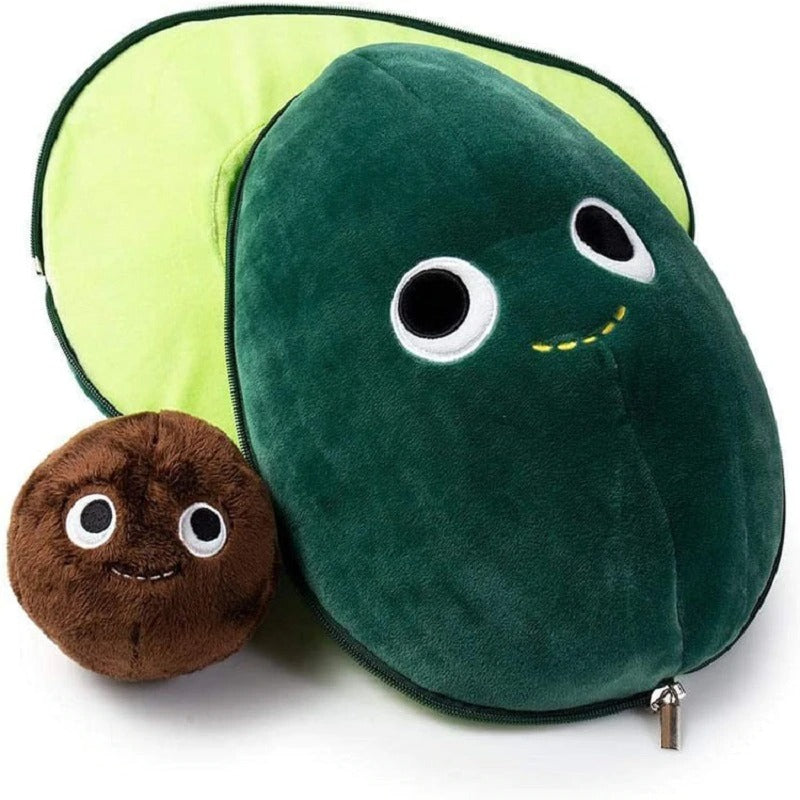 Are you ready to indulge in the delightful world of avocado toast? While our avocado stuffed toy may not be suitable for creating the actual toast, it offers a unique purpose that extends beyond the kitchen. Allow us to explain the reasoning behind our captivating new avocado plushie.
While you can't use our plush avocado to make a toast, it can certainly accompany you on your journey to the grocery store, where you can gather all the necessary ingredients for your avocado toast creation.
Who needs actual avocado toast when you have a meticulously crafted, non-perishable avocado plush? This huggable companion is always ready for cuddles, providing unwavering support, playfulness, and the perfect nap-time partner.
Whether you choose to gift it or use it as an eye-catching decoration for your bed or living room, our plush avocado is a must-have. Measuring 35cm, it's meticulously crafted with the utmost care and attention to detail. Filled with high-quality materials, it promises a soft and comforting touch.
Embrace the charm of our adult plushie avocado, designed to bring joy and companionship into your life. Discover this exquisite creation, exclusively available at AlwaysPlushie.com.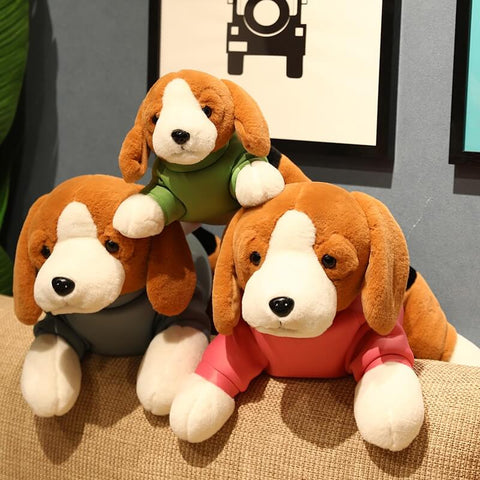 Discover the charm of our exquisite Beagle Teddy, a standout plushie from our cuddly toy collection. Designed with dog lovers in mind, this soft and cuddly beagle teddy is a must-have addition to any adult plushie collection. Its exceptional comfort ensures a delightful tactile experience.
Stuffed animals have been known to alleviate anxiety, making the Beagle Teddy an ideal companion for adults seeking relaxation and comfort. Additionally, this plushie serves as a catalyst for social connections, promoting improved social skills and fostering meaningful interactions.
For birthdays or Christmas, the Beagle Teddy comes highly recommended as a thoughtful gift for your loved ones. Embrace the joy and warmth that this adult plushie brings, exclusively available at AlwaysPlushie.com.
Adults With Stuffed Animals
Teddy bears and bunnies were previously assumed to be children's bedtime companions, but it turns out that many adults now sleep with stuffed animals. On social media and in online op-eds, people have written about their own experiences sleeping with stuffies. One Reddit member says, "I've attempted to sleep without them, but no matter how exhausted I am, sleep just doesn't happen unless I'm snuggling my teddy bears." I don't understand why I do it, but I never stopped sleeping with a stuffed animal as a child.
Adults with stuffed animals' psychology is a more bottomless pit than you'd thought. The emotional attachment to stuffed animals and adults was marketed to be harmful through the years, and in this article, we will shed light on some important facts that will change your whole perspective on the matter. 
To better understand why so many adults sleep with stuffed animals and if it is something to be concerned about or wholeheartedly embrace, we spoke with sleep and psychology specialists.
Why Do Some Adults Still Play With Toys?
According to Jennifer Martin, a sleep researcher and professor at the Geffen School of Medicine at the University of California, Los Angeles, it's crucial to comprehend why kids sleep with stuffed animals and why some adults love doing so. According to her, "Children frequently sleep with a specific blanket or stuffed animal because it's one of the environmental cues to make their brain ready for sleep." "The same motives are undoubtedly at play when an adult acts in that manner. Their brain receives a cue that it is time for sleep from the soft, fuzzy teddy they are snuggling with while they sleep. This relationship may also be influenced by popular cultural imagery, such as images of people sleeping with teddy bears in movies and television shows.
Martin claims that individuals feel calm when they are around stuffed animals because they are warm and fluffy. Nonetheless, she argues that the comfort item need not be a stuffed animal. Some individuals could have a favorite pillow or blanket that serves the same function.
Benefits Of Stuffed Animals For Adults
From an evolutionary perspective, sleep is a vulnerable time because you're lying down, semi-conscious, and in the dark. We rely on our relationships with others to keep us safe since we are social beings. According to Wendy Troxel, a senior behavioral and social scientist at the nonprofit RAND Corporation and author of Sharing the Covers: Every Couple's Guide to Better Sleep, stuffed animals can make people feel less lonely at night. According to her, "a charming, cuddly teddy bear may offer that sense of warmth and comfort." When sleeping away from their parents, kids frequently cuddle with stuffed animals or blankets. Similarly, single individuals, separated from their partners or without pets, might utilize plush animals to sate their nighttime social connection needs.
According to Amy Wachholtz, director of clinical health psychology at the University of Colorado Denver, people in the US regularly anthropomorphize anything outside plush animals. We frequently give our cars or phones names and often chat with Siri and Alexa. These actions, coupled with sleeping with stuffed animals, promote a sense of community, which can be consoling when one feels alone or lonely.
FAQ 
Is it normal for a 21-year-old to have stuffed animals?
Absolutely! Age is just a number, and stuffed animals are timeless companions for fun and comfort at any stage of life.
Is it normal for a 25-year-old to sleep with a stuffed animal?
Totally normal! Sleeping with a stuffed animal at 25 just means you've found the perfect cuddle buddy for dreamland adventures.
Why do I still sleep with stuffed animals at 26?
Because they understand the magical powers of stuffed animals, even at 26, which provide a sense of comfort, nostalgia, and a guaranteed good night's sleep.
At what age do most people stop sleeping with stuffed animals?
There's no specific age limit on the joy of sleeping with stuffed animals; it varies for each individual, but hey, who says you have to stop if they bring you happiness?
Can stuffed animals help adults with anxiety?
They sure can! Stuffed animals have mastered the art of cuddles and are excellent anxiety allies for adults, offering a fluffy escape from the worries of the world.
Why do adults carry stuffed animals?
Adults carry stuffed animals because they've discovered the secret to happiness: having a portable source of cuteness and comfort wherever they go!
Why does my wife sleep with a stuffed animal?
Your wife is simply ahead of the curve, recognizing the soothing powers of a stuffed animal that brings tranquility and warmth to her slumber.
What is the psychology behind adults sleeping with stuffed animals?
The psychology behind adults sleeping with stuffed animals reveals a beautiful truth: these soft and snuggly companions provide a sense of security, emotional support, and a reminder to embrace the childlike joy within us all.