Finding the perfect cute plushies for your boyfriend can be pretty challenging, and you might be surprised by the various aspects to consider. A gift serves as a means to express emotions that can sometimes be difficult to communicate in a romantic or any other type of relationship. It's a way to show affection, not just when it's expected or on specific occasions. Occasionally, a gift can create a connection or evoke certain emotions that the recipient cherishes. Offering a thoughtful gift or creating a special memory is a beautiful gesture to express sincere appreciation for your boyfriend and relationship.
This article will explore the art of gift-giving in relationships, focusing on boyfriend-related gifts. We'll briefly delve into the history, significance, and meaning of gifting within relationships. Then, we'll jump straight into the best gift ideas you can consider for your boyfriend. Spoiler alert: we will recommend some adorable plush toys and teddy bears that hit the mark perfectly. These cute plush for boyfriend cheap are budget-friendly and great for strengthening your relationship.
When should you give your boyfriend a stuffed animal, and is it weird? 
Giving Cute stuffed animals to a boyfriend as a present is very acceptable. However, it's a good idea to go through a checklist to ensure he values it.
Not all males are fond of plush animals, just like some girls. They might not be against them, but they might not understand the appeal or advantages of owning one.
Before buying a plush animal for the guy, it's best to ask whether he likes them to measure his interest. You may also look around his room casually to see if he already has any plush toys or figurines on display.
His sense of humor is a crucial consideration as well. Make sure he has the same sense of humor before you give him a plush animal as a joke or fun gesture. Otherwise, he could find the present strange or unpleasant.
Finally, it's critical to consider his personality. Does he have a silly, pleasant personality that would like receiving wacky gifts? Or does he tend to choose skills that are useful and practical?
Using this checklist, you can decide if the guy is a good receiver for a plush animal gift. Giving him a stuffed animal is reasonable and normal if he expresses interest or passion for them.
Here are 10 of the best-stuffed animals that you can gift to your significant other 
Here are some cool plushies you can find at AlwaysPlushie.Com at a very affordable price. These ten silly, adorable plushies will bring joy and comfort to your boyfriend's life!
Raccoon Plush From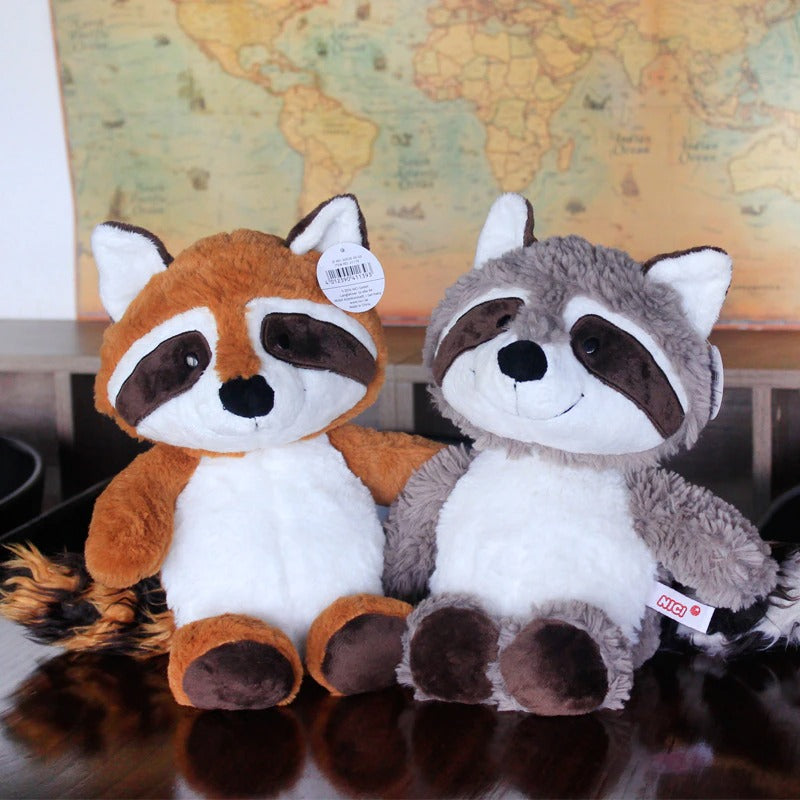 are you looking for a fun gift for your boyfriend? Look no further than our raccoon plush brought to you by AlwaysPlushie.com. This charming raccoon stuffed animal is the perfect companion that won't create any mess or mischief as real raccoons do. Measuring around 50cm, this giant raccoon plush has a big smile and an even bigger heart. It is vibrant colors and soft PP cotton filling make it irresistible to cuddle with. Bring home this delightful raccoon plush toy and elevate your napping experience to a new level. It's a fair trade-off – a cozy home for a cuddly roommate!
Avocado Stuffed Animal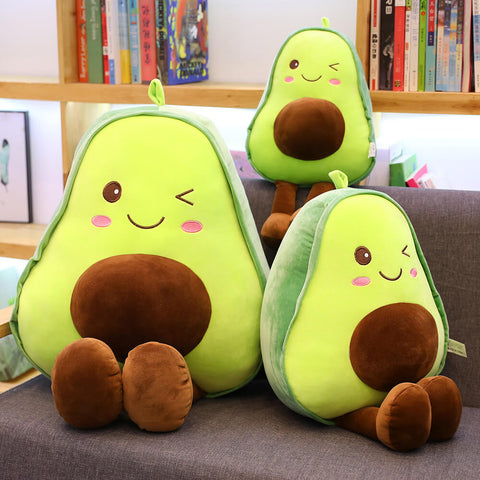 Are you looking for a cute and quirky gift idea for your boyfriend? How about our avocado stuffed animal, exclusively available on AlwaysPlushie.com? While you can't make avocado toast with it, this plushie is the perfect companion for your grocery runs to get real avocados. Measuring 35cm, this meticulously crafted avocado plushie is always ready to cuddle and play. It never rots and will always be there for you, making it an ideal bed or living room decoration. With its high-quality materials, this avocado stuffed animal is a gift that will bring joy for years.
Donkey Plush Toy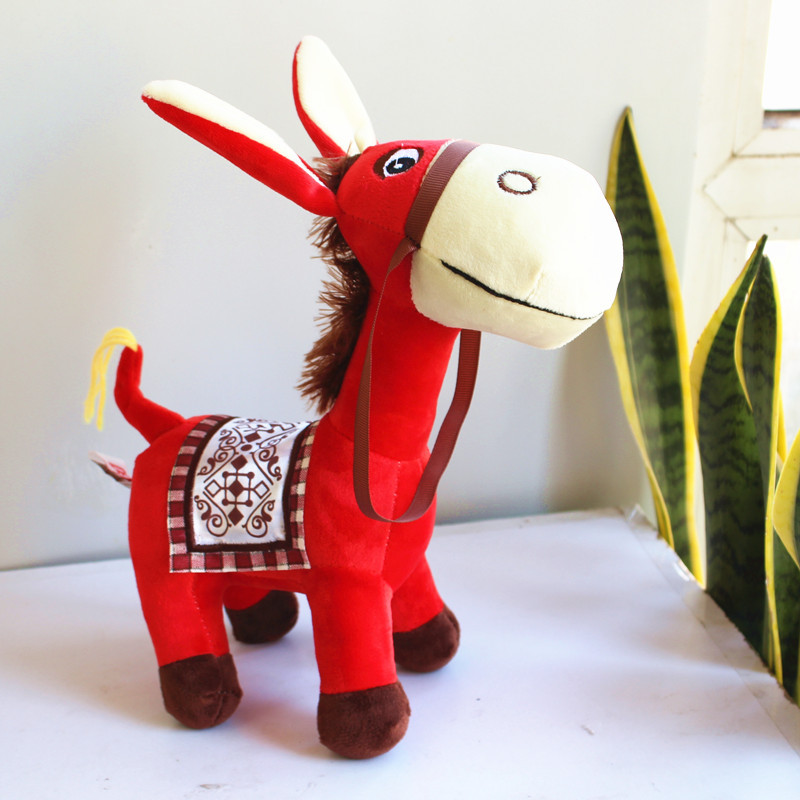 Brighten your boyfriend's day with our charming donkey plush toy, available exclusively on AlwaysPlushie.Com! This smiling donkey soft toy will surely bring a smile to his face. Its perky ears, silky hair, and adorable eyes make it hard to resist its vintage and hilarious look. Unlike real donkeys, this stuffed donkey has excellent manners and won't nibble on your jeans. Made with the highest quality materials, including PP cotton and super soft plush, this donkey plush toy guarantees countless hours of amusement and will remain a source of joy for years.
Cow Teddy Bear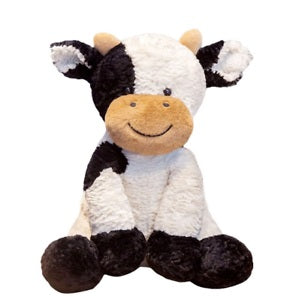 Surprise your boyfriend with our delightful cow teddy bear, available on AlwaysPlushie.Com! This beautifully designed dairy cow comes in various sizes, ranging from 25cm to 70cm. Its smaller size makes it easier to care for and turns it into the perfect sleeping buddy. With its super soft plush and fluffy PP cotton filling, cuddling with this cow teddy bear feels like being embraced by a cloud. While you can't have a real cow at home, this adorable cow stuffed animal with black and white fur, black hooves, and a brown snout brings the farm spirit into your room. Will you accept this lovable cow as part of your family?
Beagle Teddy Soft Toy Pillow Plush From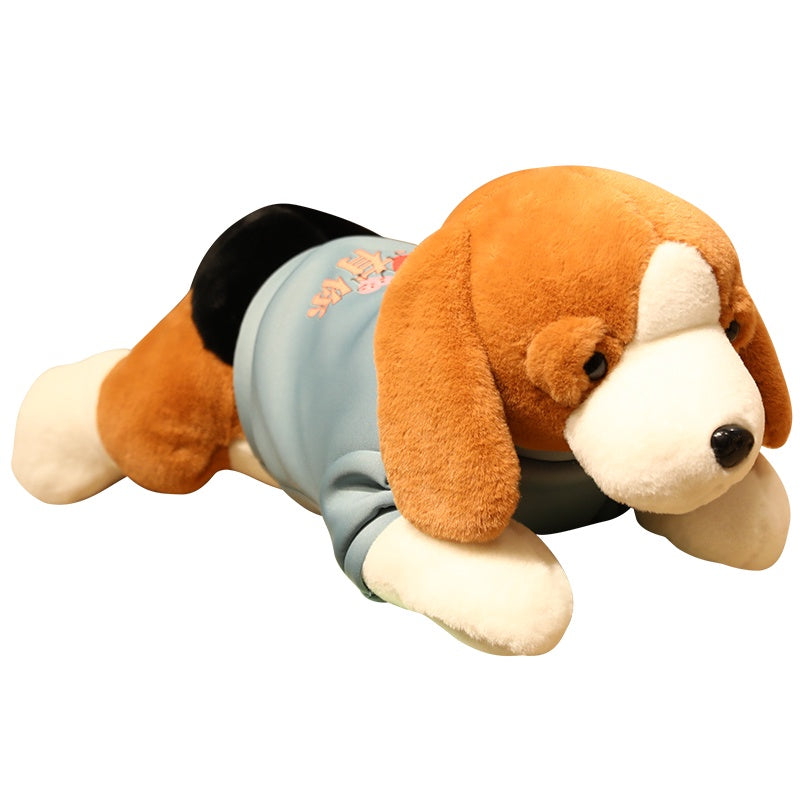 Are you searching for a comforting and thoughtful gift for your boyfriend? Our beagle teddy soft toy pillow plush, available exclusively on AlwaysPlushie.Com!, is perfect. Ideal for dog lovers, this beagle teddy offers extraordinary comfort and can be a treasured addition to their toy collection. Stuffed animals, like this beagle teddy, have been proven to reduce anxiety and foster social connections, making it an excellent gift for your loved one's well-being. Whether for a birthday or Christmas, this beagle teddy is a highly recommended gift to bring joy and improve social skills.
Banana Plush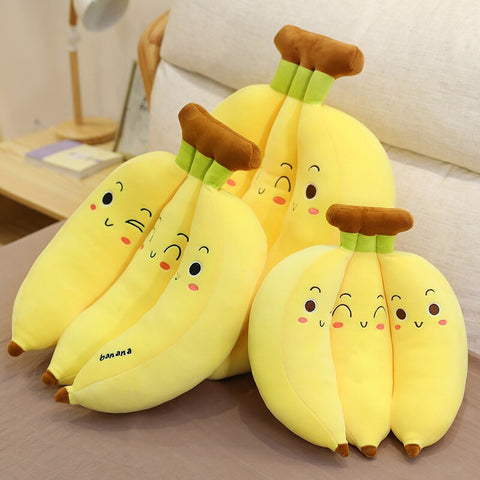 Looking for a unique and useful gift idea for your boyfriend? Check out our banana plush toy, which is only available on AlwaysPlushie.Com! This enormously plush and cozy stuffed animal comes in a range of sizes, making it a useful present. It's eye-catching and cozy to cuddle with thanks to its premium synthetic soft fabric and colorful colors. This adorable banana plush adds a whimsical element to any space, whether it is used as a fruit toy, sofa cushion, or pillow. With its washable exterior material, it's simple to maintain for years to come and is a great present for people of all ages and genders. With this charming banana plush toy, get ready to brighten your boyfriend's day!
Baby Whale Stuffed Animal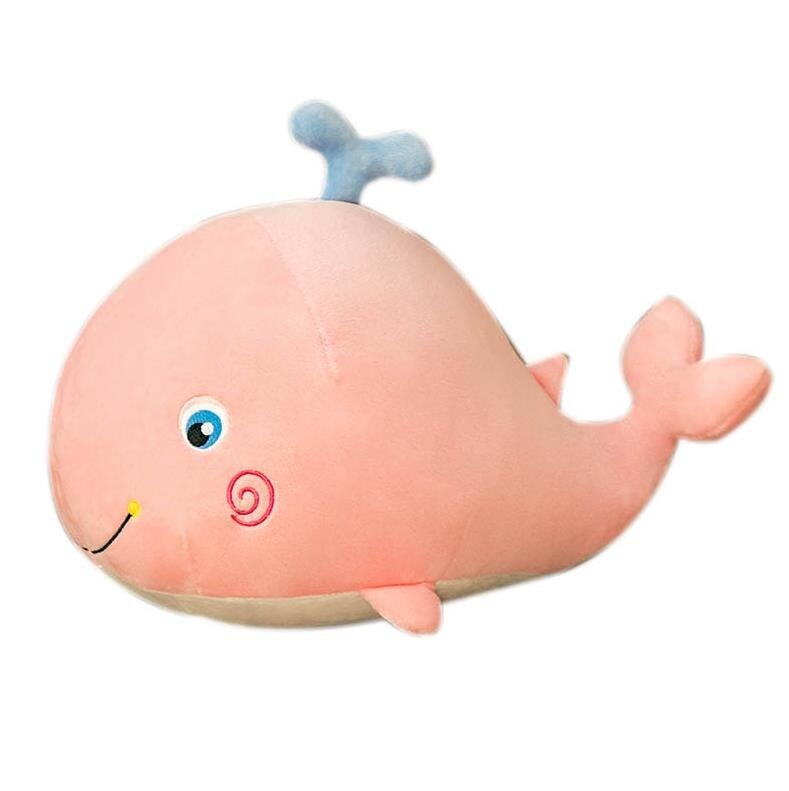 Are you trying to find a cute and cuddly present for your boyfriend? The ideal stuffed animal is our baby whale, which is only offered on AlwaysPlushie.Com! You won't believe how soft and fluffy this plush toy is or how adorable its naïve expression is. It may be used in a variety of settings, including the bedroom, the house, and even as a cozy workplace cushion. It is made of soft, quality cotton that is ideal for cuddling and is kind to the skin. Maximum comfort and support are guaranteed by 100% PP cotton stuffing. This baby whale plush will make your boyfriend's life more enjoyable and convenient, whether as a special birthday or Christmas gift.
Biscuit Plush Pillow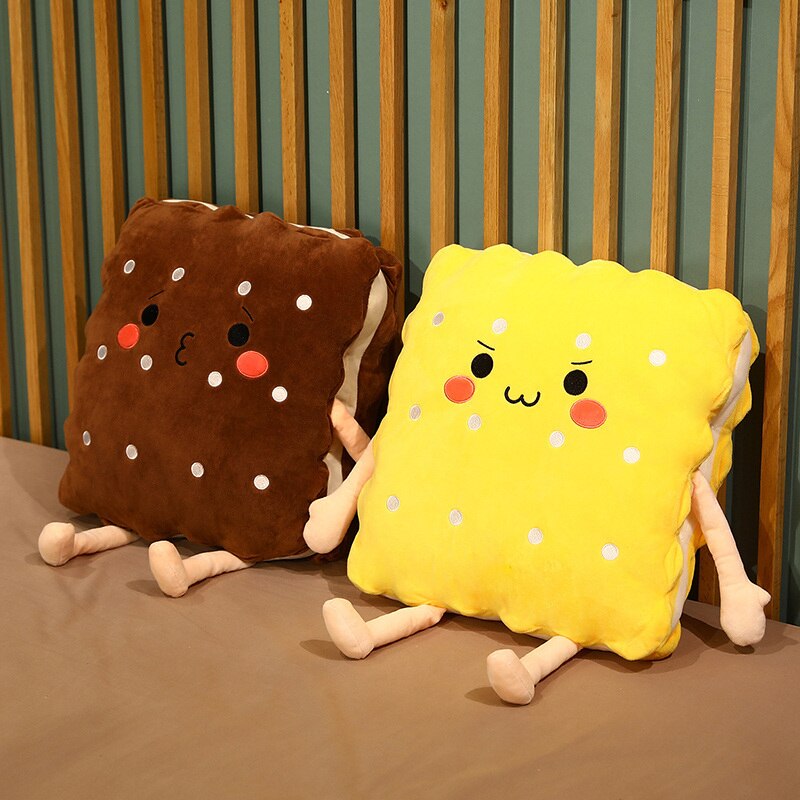 Want to give your lover a nice and romantic surprise? You can't go wrong with our soft biscuit cushion from AlwaysPlushie.Com! There are several charming facial expressions available on this lovely plush toy. It's more than just a cushion; it's a method to show your loved ones how much you care. It's the perfect birthday present for biscuit fans because it is made to look like a sesame cheese cookie.
Additionally, it engages children in a fun and engaging approach to encourage good eating habits. This gorgeous biscuit plush cushion will make enduring memories if you're seeking one-of-a-kind works of art for your Christmas décor. With this adorable gift, you may brighten your boyfriend's day!
Panda Teddy Bear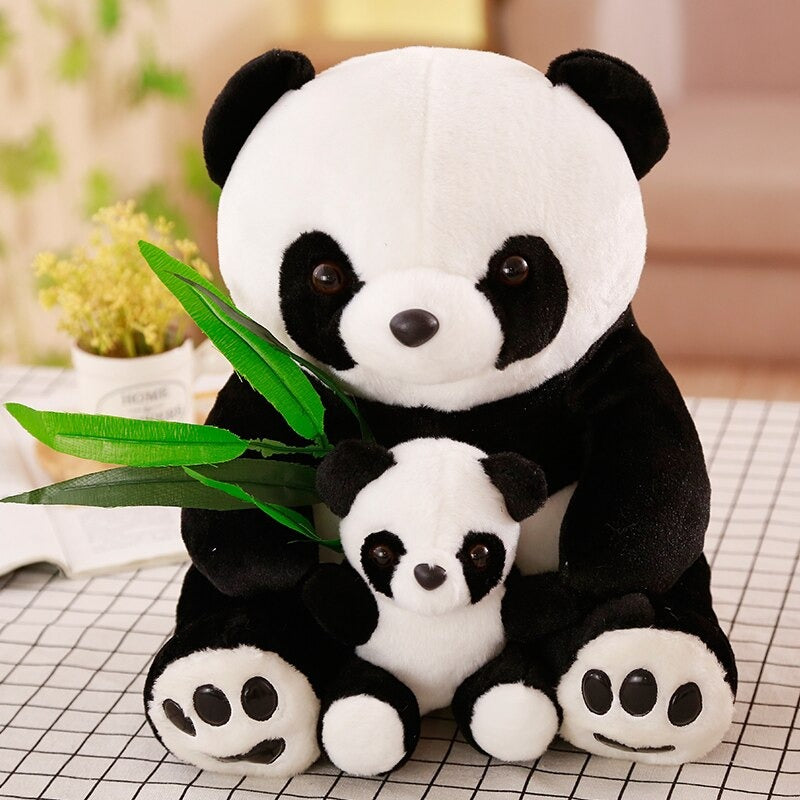 Prepare to be overwhelmed by cuteness with our panda teddy bear, exclusively available on AlwaysPlushie.Com! This chubby charmer comes in various sizes, ranging from 18cm to a pillow size of 50cm. Whether you want a pocket buddy or a cuddly pillow, this panda teddy bear is the perfect choice. While real pandas spend their time eating bamboo, our panda teddy bear's only appetite is for cuddles and naps. Crafted with the softest plush and filled with high-quality PP cotton, it's the epitome of fine craftsmanship and durability. It's not just a toy but a lifetime companion providing infinite hugs and naps. If your boyfriend is a panda lover, don't wait any longer to bring this adorable panda teddy bear into his life!
Big Teddy Bear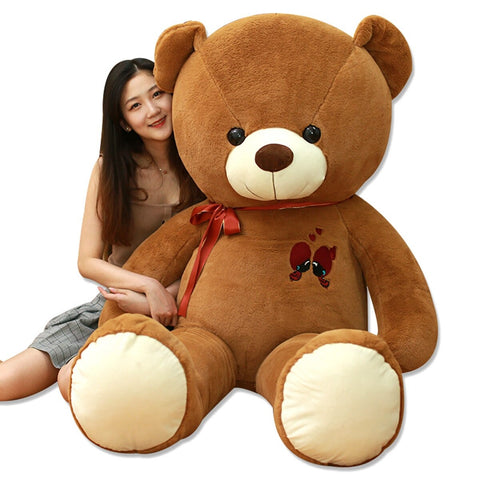 We are looking for a gift that symbolizes love and friendship. Our big teddy bear, available on AlwaysPlushie.Com, perfectly embodies those sentiments! With its priceless expressions, this large teddy bear invites loving embraces with its giant body. It's a unique and memorable birthday gift for your loved ones, and the beautiful red bow around its neck adds a touch of elegance. With its great stitching and excellent support, it's not just a teddy bear; it doubles as a cozy pillow. Whether as a centerpiece in home décor or a cherished companion
FAQ
Can you give your boyfriend a stuffed animal?
Absolutely! It's the perfect gift to keep him company during those "bear-y" lonely moments.
Is a teddy bear a romantic gift?
Oh, absolutely! A teddy bear is like a fluffy love ambassador that says, "I bear-ly contain my love for you!"
At what age do boys stop having stuffed animals?
Well, there's no specific age for that. Some boys keep their stuffed animal pals even when they're all grown up because who wouldn't want a cuddle buddy for life?
Why does hugging a stuffed animal feel good?
Oh, it's a magical phenomenon! When you hug a stuffed animal, it activates the fluff receptors in your brain, releasing a flood of warm and fuzzy feelings that make you go, "Aww!"