Stuffed animals create an unbelievable bonding with kids and this attachment involves cuddling them at all times, eating with them & carrying them everywhere. These stuffed animals can become the dirtiest partners of your kids if not washed on a regular basis. Stuffed animals need consistent care and cleaning to remove their dead skin like us. Plush toys catch dust and odors quickly and an occasional soak can rejuvenate life in them.  There are many ways to clean stuffed animal toys depending on their features. Some toys are very delicate and require hand-washing while machine-wash is the most common practice to clean a stuffed animal toy.
How to Clean Stuffed Animals
Cleaning a stuffed animal toy is not rocket science and you don't need to be a professional cleaner for this task. You need to analyze a few things and precautions before getting started. Examine a few details like removing any part Here we are going to share some best approaches towards washing stuffed animals like a pro but before that remember to read the label (if any) on the stuffed animal washing instructions.
Discover More Wonderful Plushies:
Can You Wash Stuffed Animals?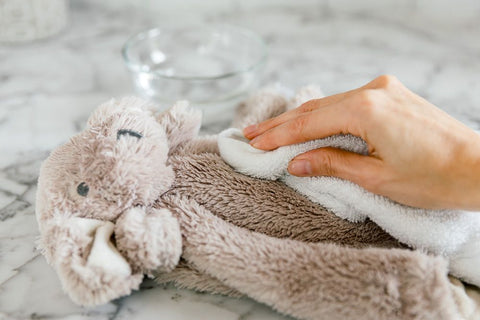 Absolutely Yes. Stuffed animals can be washed and this should be done frequently if your child is prone to dust allergies or is asthmatic. Similarly, if you bought a stuffed animal from a garage sale, it must be washed to get rid of all germs & other irritants before its use. Risks associated with Stuffed animals: Stuffed animals catch up with dirt and germs easily just like all of us. If not washed properly, it may bring serious health issues for your children. If you want to hand over your childhood plush toys to your loved ones, then it's important to wash and disinfect them before use. In old times, stuffed animals like teddy bears were mostly filled with foam that degrades over time. Therefore, it's important to understand that the risks associated with stuffed animals shall not be compromised.
Here are some simple steps to wash and disinfect a stuffed animal toy in no time:
Look For Washing Instructions: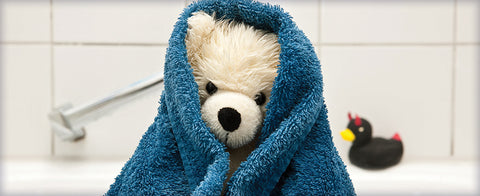 A majority of the stuffed animals are machine washable however those with plastic pellets or batteries are not recommended for machine wash. It is always advised to look for washing instructions before you begin your laundry. For instance, if washing instructions are missing due to any reason, look for the following details in your stuffed animal toys to decide the accurate method for cleaning the toy. It is never recommended to machine-wash your stuffed animal toy if it's worn out and has items attached to glue. Similarly, if the plush toy contains any glittery or bulged items, avoid cleaning it with a machine wash.
Machine-washing Techniques: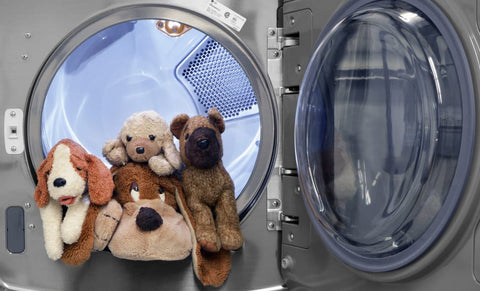 Washing stuffed animals in a washing machine is a quick and easy cleaning choice for most parents. It is important to understand that washing a stuffed animal toy and disinfecting them from germs are two different things. If your stuffed animal is compact in size, then placing it in a mesh laundry bag is ideal to protect it by all means. You can also use a pillowcase for this task. Simply put the plush inside a pillow case and tie the knot on its open side. This will ultimately protect the facial features of the plush toy. Moreover, It is recommended to use a regular detergent along with a laundry sanitizer to kill all the germs. Moreover, it is never recommended to use bleach or hot water for washing purposes. It might result in the discoloration of the stuffed animal.  If you have a top-load washing machine, make sure to run a delicate cycle for the wash.
Hand-laundering Techniques:
There are many plush toys that possess delicate features and are therefore recommended for hand laundering. If your plush toy is furry or comprises electronic parts, it must be washed by hand. Always remember to unplug the electronic parts before beginning the wash. If your stuffed animal is small-sized, it can easily be washed by filling a basin with cool or Luke warm water along with a regular detergent however, if the plush toy is oversized, you can accomplish this task in the bathtub. Make sure, to begin with, spot cleaning if any stains exist. Soak the stuffed animal for some time to eliminate dirt properly. Another simple way to hand-wash a plush toy is by wetting a brush and rubbing it on a soap bar to build a consistent lather. They scrub the stuffed animal in one direction. Once you notice that the stains and dirt are removed, it the time to wipe it with a wet cloth. Once all the residues of soap are gone, use a dry towel to remove excess moisture and let it to air dry. I personally recommend not involving your kids in hand-cleaning processing as it can be troubling for many kids. The best possible practice is to clean the plush toys secretly to save a lot of your time. Although it may be a fun activity for your kids, it may take a lot of your precious time.
Air-drying The Stuffed Animal:
Air-drying is the last step in the stuffed animal washing procedure. This is done by removing the excess water and keeping it in a well-ventilated area to speed up the process. When air drying a stuffed animal, make sure to use a hair dryer and a comb to avoid the hardening of any furs on its body.
How To Do Spot Cleaning For Stuffed Animals?
If your stuffed animal is overall clean and contains some minor stains, you can spot-clean it by applying watered-down detergent to the stain. Use a toothbrush and rub lightly on the stain with the direction of the fur to avoid any damage to the plush fibers. Rinse the spot thoroughly to get rid of any leftover soap residues.
Cleaning The Stuffed Animal With Electronic Parts:
Some stuffed animal contains electronic parts and they cannot be easily cleaned. Such plush toys can be cleaned via the spot-treating method or by unplugging the electronic component and doing a surface-only cleaning. It is ideal to use a less dense hand wash to remove even a tiny bit of foaming soap and avoid it to reach the inner stuffing.
Important Key Points to Remember:
If you have applied soap to a stuffed animal toy it's very important to wash it thoroughly because even a minor residue could attract more impurities & dust with the passage of time.
While machine-washing the plush toy, use a mild laundry detergent and never use a fabric softener since it can compromise the fabric quality of the plush toy.
If the stuffed animal is oversized, avoid putting it in a washing machine because it may bring harm to the machine's spindle along with damage to the fur of a stuffed animal.
Air drying is of crucial importance and it must be speed-up to avoid any musty odors. Never put the stuffed animal in the dryer as the heat can bring negative consequences to the plush fur. You can put the toy in the sunlight or near a fan.
If your toy contains fur, you can use a soft-bristled brush to comb its furs. Begin slowly in one direction to prevent the tangling of furs. Toothbrushes are a good source of removing tough stains and you can use them whenever all other cleaning methods are failed.
For drying purposes, make sure to use a white colored towel to avoid the risk of losing the colors of your stuffed animal.
DIY Hack To Wash Stuffed Animals: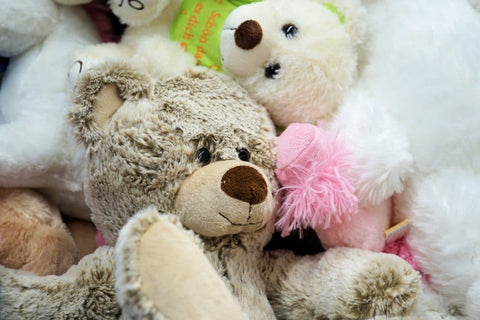 There are many DIY tricks to wash your plush toy but it's important to read the washing instructions of the supplier before experimenting with any toy. For some or other reasons, it may cause a reaction with the fabric. If you want to wash a stuffed animal by following a DIY hack, then follow the simple steps of creating a mixture of baking soda and vinegar. This solution can be used for both hand washing and machine washing techniques. Another way to clean your stuffed animal toys is to give them gentle brushing to remove the dirt with a vacuum cleaner.
Follow-up Instructions:
Like any other fabric, stuffed animals are vulnerable to damage if kept for drying in sunlight for longer periods of time. Make sure to bring them back from sunlight as soon as it dries up. Secondly, it's important to maintain a schedule to clean stuffed animal toys like all other clothing.
Final Thoughts:
The good part of washing a stuffed animal toy is that it does not require a lot of effort but needs to follow some rules and precautions to protect the plush toys from any damage. So, it's the perfect time to bring a smile to your kid's face by giving a makeover to their favorite stuffed animal toy. After reading this article, you are now a pro in plush cleaning and you won't question anyone about how to wash stuffed animals!